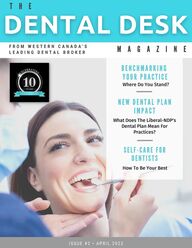 Return to flip book view
The Dental Desk - Issue #2
Page 1
T H E FROM WESTERN CANADA S LEADING DENTAL BROKER M A G A Z I N B E N C H M A R K I N G Y O U R P R A C T I C E Where Do You Stand N E W D E N T A L P L A N I M P A C T What Does The Liberal NDP s Dental Plan Mean For Practices S E L F C A R E F O R D E N T I S T S How To Be Your Best ISSUE 2 APRIL 2022 E
Page 2
CEO s Message With information at our fingertips it s hard to know who s telling the truth Who do you trust with your practice Looking For Featured Practice Listings CLICK HERE Page 4 New Dental Plan Impact What Does The Liberal NDP Dental Plan Mean For Practices The world has been at a loss for words for a while now Around the globe people are seeking the truth The real truth and nothing but the truth It seems many owners are as well when it comes to practice numbers valuations and planning The Canadian Government is now proposing a dental plan that will impact the industry across the board the question at this point is how Page 5 Benchmarking Your Practice Where Do You Stand Page 8 Self Care For Dentists How To Be Your Best After 10 years in the dental industry we ve seen a thing or two and can tell you that having the right team on your side will save you thousands of dollars and many precious hours no matter what comes your way If you have questions about your local marketplace we have answers DARREN SHANAHAN Founder CEO Avail Dental Exit Advisory Services THE DENTAL DESK MAGAZINE 2 Avail Dental has been a trusted resource in the dental industry since 2012 www AvailDentalAdvice com
Page 3
WHAT S THE COST Politics Influencing Business The Liberal NDP dental plan is proposed to change the barrier to entry for dental services for patients across the country by Darren Shanahan The price tag has yet to be finalized however previous outline by the NDP in 2020 was 1 3 billion over the year following the plan s announcement and 4 3 billion during the first year of the plan s operation The program would then cost about 1 5 billion annually until 2025 As expected the opposition government is positioning the program as reckless spending during a time of economic uncertainty CLINIC OWNERS ARE ASKING WHAT IT ALL MEANS A proposal in the new Liberal NDP agreement to create a national dental care program for low income Canadians could deliver the largest expansion of Canada s public health care system in decades The proposed changes are to be phased in over three years before the Liberal NDP agreement expires in 2025 Starting later this year children under 12 would become eligible for the program In 2023 the coverage would be extended to 18 year olds seniors and people living with disabilities The program would be fully implemented by 2025 under the proposed timeline What will come of the program is yet to be determined Even more uncertain is the impact on the clinics across the country who will see patients with no previous access to dental care Will that mean higher costs in the initial phase Will those costs be effective long term in maintaining oral health and other related illnesses Darren Shanahan has some thoughts on this on the following page www AvailDentalAdvice com THE DENTAL DESK MAGAZINE 3
Page 4
Want to know whatWant to know what your practice is worth?your practice is worth?Give us a call to find out whatGive us a call to find out what the current market value isthe current market value isin your area.in your area. 1-866-Go-Avail1-866-Go-Avail ((1-866-462-82451-866-462-8245)) Click Below To Play Video:
Page 5
D E N T A L I N D U S T R Y Benchmarking Your Practice Where Do You Stand by Darren Shanahan Founder CEO of Avail Dental Exit Advisory Services has been in the industry for more than 10 years THE DENTAL DESK MAGAZINE 5 www AvailDentalAdvice com
Page 6
When it comes to your practice you spend the bulk of your time in thechair, and beside your patients - where you should be. You track manythings in your practice from daily production goals, new patients,active patients, hygiene recalls, and much more - or much less.Depending on how you want your practice to perform, you willgenerally measure what you want to track. But, what are the otherthings you should be tracking? By seeing so many practices we get asked these questions all thetime from owners: What is a good number of new patients? Whatshould the hygiene percentage be in my practice? What should myoverhead percentage be? Understanding your key metrics, how theycorrelate to a great patient experience and contribute to the overallprofitability, will help you keep your value headed in the rightdirection. Today's dentist has more sophisticated tracking toolshowever you need to make sure you are tracking theright things. Much like most things, those things which you focus on, your staff inturn will typically focus on it as well - but what items should you befocusing on? If you are looking to increase the value of your practice you shouldbe learning which expenses are within your control and what yourtargets should be. We have seen some practices that have lost$200k -$500k in practice value because they didn't start watchingthe bottom line and controlling spending on certain line items. WHERE DO YOU STAND?THE DENTAL DESK MAGAZINE  | 6The "Omicron Effect" On Your Practice:Call Us To Learn More.In order to prepare for the future,In order to prepare for the future, you must consider the past.you must consider the past. We can help.We can help. 1-866-Go-Avail1-866-Go-Avail ((1-866-462-82451-866-462-8245))
Page 7
BENCHMARKING YOUR PRACTICE CON T WHERE DO YOU STAND This could easily have been identified by understanding which items to track and how to track them Unfortunately these items are not the same for every practice so you need to understand which benchmarks are relevant for your practice Understanding your practice s benchmarks can help you to control your profitability early and can prevent you from missing out on ways to increase the value of your practice We have seen time and time again the tale of two practices one with controlled expenses and meeting their specific benchmarks and the other with expenses that are not properly controlled and not meeting their specific benchmarks and the value of each of these practices can differ dramatically It s a cautionary tale We have witnessed up to a 1 Million dollar value difference between two practices doing the same gross production all because there was not a clear understanding of the individualized benchmarks We strongly recommend that you endeavour to fully understand what your specific benchmarks are and how to adjust them to ensure you get the most out of your hard work We re here to help and answer your questions Call us THE DENTAL DESK MAGAZINE 7
Page 8
BY YVETTE SHANAHAN We ve mentioned in previous articles the idea of placing your own oxygen mask on before helping the people you love It s true that this analogy may be a bit over used however the analogy is absolutely accurate and true Like all health care fields this field is known to be care givers There is a tendency to focus on the needs of those around us and often times to place ourselves last in the list of care priorities The pandemic has exacerbated this situation somewhat as everyone has jumped into action to protect their loved ones and to try to control a seemingly uncontrollable situation Arguably it is more important now than ever to begin truly practicing self care THE DENTAL DESK MAGAZINE 8 It is vital to refill our well so that we may continue to be at our best for those we love and care for At Avail we strongly encourage self care and made this a focus at our recent team retreat With this in mind we would like to share with you a few best practices for self care It is our hope that this will remind you to take good care of yourself You are one person in the whole world but to someone you are the whole world BE ACTIVE Exercise is a cornerstone of self care Whether it s a walk or a run playing an organized sport or going to the gym exercise is a fundamental way to let your body know that you care for it Exercise is also known to release endorphins and we all know the importance of endorphins TAKE TIME FOR YOURSELF Perhaps it s a relaxing massage or taking time to meditate or practising yoga or enjoying a long luxurious bubble bath Whatever it is that helps you to relax and allows you time to quiet your mind allow yourself the chance to do it We all need time to shut out the noise of the world and to re charge our batteries SLEEP Prioritize getting true restful and restorative sleep at night It has been said that impaired sleep can have the same cognitive effect as alcohol or drug impairment Good sleep is vital to good health and will help you increase your energy overall
Page 9
HOLIDAYS VACATIONS SELF CARE FOR DENTISTS CON T NOW IS THE TIME If you have the opportunity to travel seize the day Seeing and experiencing new places refreshes the soul and invigorates the spirit Restore Recharge Flourish PRACTICE GRATITUDE This has been life changing for us Every day we take time to assess the many amazing things we have in our life to be grateful for Truthfully there are always an abundance of challenges in our lives but focusing on the things that we are grateful for can be transformative Become an eternal optimist HYDRATION We all know how important water is and yet we somehow de prioritize our intake of water Carry your water bottle and use it regularly If you are like me and you struggle with your water intake try using a water bottle that reminds you of a special vacation or a fun hobby It may help to motivate you to drink more water HOBBIES Enjoy interests outside of work Visual arts music car restoration coaching there is no limit to the kinds of activities you can do Enjoy broadening your horizons and exercising the muscles in your brain in new and unusual ways THE DENTAL DESK MAGAZINE 9 www AvailDentalAdvice com These suggestions barely scratch the surface of the many ways you can practice self care We hope it helps you to invest in yourself even more Falling in love with yourself doesn t make you vain it makes you indestructible
Page 10
MEET THE TEAM AT AVAIL Western Canada s Leading Dental Broker Jessie McCracken Andrew Jones Sara Trenn Leo Morrison Coming Soon Darren Shanahan CEO Founder Coming Soon Angi McGarry
Page 11
OUR FEATURED LISTINGS by Darren Shanahan NEW LISTING Rural Alberta Practice Central Alberta Ref 1721 2 484 119 Practice Value 345 000 Real Estate Location Central Alberta Retail Stand Alone Building Total Asking Price 2 829 119 Gross production 1 800 000 Net income after all doctors fees 572 604 31 ROI of Ops 5 Currently open 5 days a week Hygiene production 29 RDH 1 0 FTE Digital charts and Intra oral X ray Pan This 5 operatory practice has been in this rural community for many years The community is prime for you to add hours and additional services to grow this practice The main level street entrance is highly visible and there is ample staff and patient parking The practice boasts above average hygiene production for a rural practice which keeps the bottom line profitable and prime for additional services Call Call For For Details Details LISTINGS COMING SOON Clinic Type General Practice Calgary 2 Practices Coming Late April Early May 2022 General Practice Edmonton 4 NEW Practices Coming May 2022 www AvailDentalAdvice com THE DENTAL DESK MAGAZINE 11
Page 12
OUR CURRENT LISTINGS by Darren Shanahan Clinic Type of Ops Gross GrossIncome Income Listing Price General Plus Real Estate Rural West of Edmonton Ref 1717 7 799 148 1 069 208 Real Estate General Practice Rural East of Edmonton Ref 1712 7 1 794 829 2 412 864 General Practice Saskatchewan Rural Ref 1392 8 1 250 000 1 300 000 Contact Darren Shanahan for further details on all of our current listings QUESTIONS ABOUT LISTINGS Call Text Darren Founder Owner Cell 403 862 7406 www AvailDentalAdvice com THE DENTAL DESK MAGAZINE 12
Page 13
WITH GRADUATION SEASON JUST AROUND THE CORNER WE WANT TO SAY CONGRATULATIONS TO THE DDS CLASS OF 2022 ALL OF YOUR HARD WORK IS ABOUT TO PAY OFF
Page 14
Let s Connect In 2022 Find Us On You can find AVAIL at these upcoming industry events Saskatchewan Oral Health Conference 2022 Sept 22 24 2022 Marriot Hotel Regina SK Hosted By College of Dental Surgeons of Saskatchewan CDSS Northwest Dental Exposition 2022 Sept 23 2022 Edmonton Convention Centre Edmonton AB Hosted By Edmonton District Dental Society You won t want to miss Darren Shanahan s presentation on What s the Big Deal Corporate vs Legacy vs Private Sales Want Darren to speak to your group Call us 1 866 Go AVAIL
Page 15
Did you know that for over 2 decades, our Founder, Darren Shanahan, has been in thedental industry as the "go-to" for other industry professionals and leaders? Every phone call that comes into our office is about a dental or healthcare clinic. We don't work in any other industry.We provide owners with a "firewall" to protect them from all of the pitfalls we know are out there throughout a transaction because we know how to prepare the deal and navigate the waters. We're here for you.Darren ShanahanCEO & FounderYvette ShanahanCo-FounderLogan RenolydsTransaction SpecialistJennifer LaroqueTransaction ManagerMorgan MinkusTransaction Specialist
Page 16
The Dental Desk Magazine runs on a monthly basis to keepstakeholders in the dental industry in the loop.Avail Dental Exit Advisory ServicesProudly Serving Western Canada (Alberta,B.C. & Saskatchewan)1-866-Go-Avail (1-866-462-8245)www.AvailDentalAdvice.comCome back for Issue #3 which will reveal the currentstate of the industry, how trends are shaping up in thefirst quarter and more.